Everything You Need To Know About Chalk
Chalk Clothing is a lifestyle and homeware company based in Kent UK, established in 2012 their mission is to offer timeless and versatile products that will complement both your wardrobe and home - the two things we love to spend our money on! This independent and family-run business are committed to supporting fellow independents and boutiques like Gemini. Chalk offers a capsule range of UK designed clothing and loungewear.
As proud stockists of Chalk Clothing Gemini Woman have got to know and love the timeless and versatile collection this brand has to offer, allowing us to put together a Chalk Clothing Guide for our customers. With quality clothing that will last a lifetime, you can't go wrong with Chalk. Read on to learn more about this brand, their fabulous clothing and our stylist's recommendations.
- Fits sizes 8-16
-​ Oversized look
- 94% Cotton
- Measures 76cm in length
​- Simply pulls on
The Robyn style is one of Chalk Clothing's most iconic designs. This style comes in a vast array of colours and designs. Robyn is a one size design that fits sizes 8-16, offering a relaxed, modern and easy fit for all wearers, designed to drape over the body rather than fit snugly, making it perfect for every size. Robyn T-shirts are longer at the back and shorter in the front, creating the popular oversized look. Designed with long sleeves and a comfortable round neckline, the Robyn Top is the perfect foundation for your everyday wardrobe. Wear casually around the house, or style this sartorial basic under an on-trend blazer or cardigan. With the Robyn style, the sky's the limit.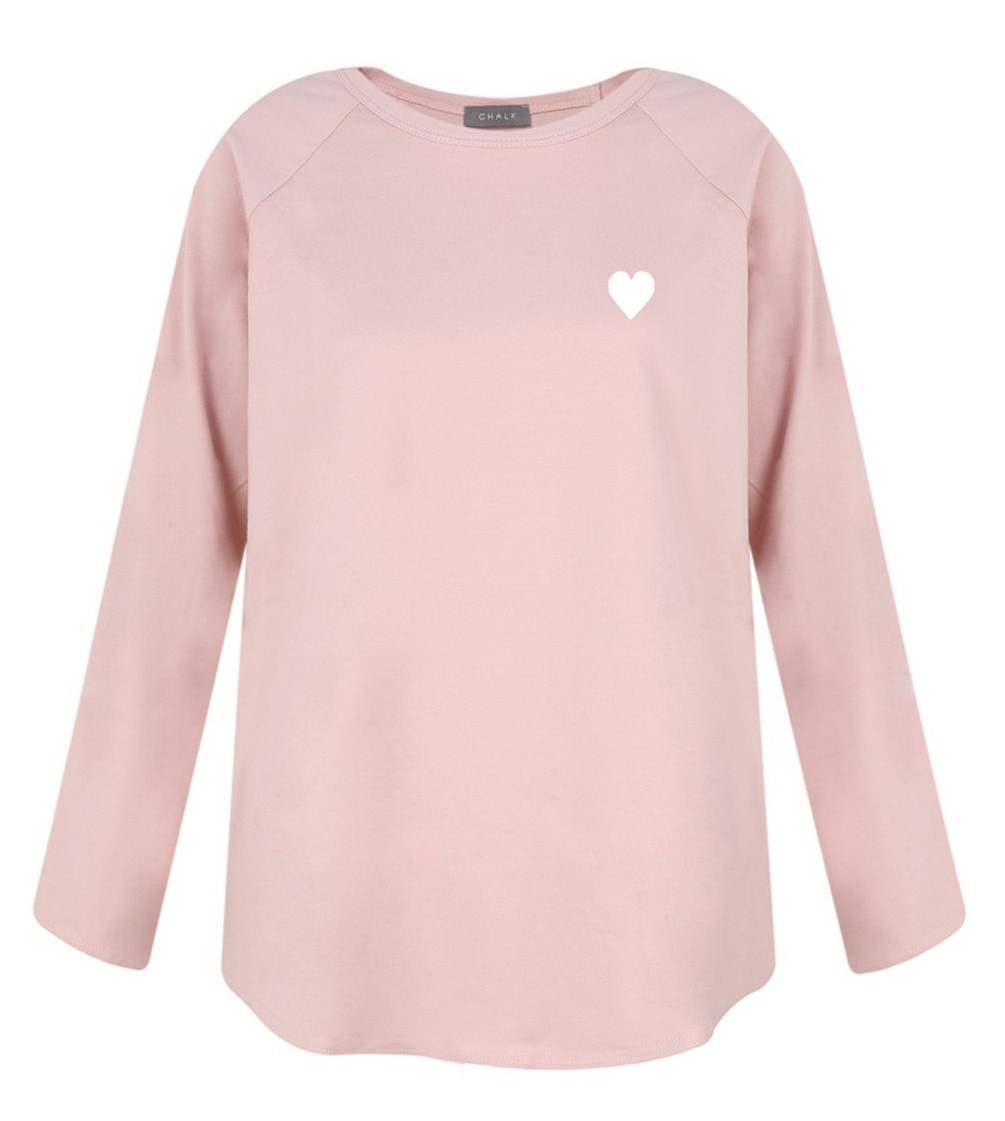 -Fits sizes 8-16
- Round neckline
- Measures 61cm in length
- Raglan sleeves
-94% Cotton
Tasha is a one-size design offering a neater fit than the Robyn. Tasha tops are made to fit snugly rather than flow over your body, accentuating your figure in a flattering way. This feature makes it perfect for loungewear, and much more, with long sleeves making it the ideal layering piece for those chillier days. Relax in the comfort of your home with Chalk Clothing's Tasha tops. The Tasha style is a great addition to any wardrobe. Complete with a timeless style, it can be worn year-round, so there's no throwing it out once the trends change.
-Side pockets
- 94% cotton
- Long sleeves
- Measures 94cm in length
- Fits sizes 8-16
The Brody style from Chalk Clothing introduces a modern oversized dress, fitting all body shapes and sizes. Whilst the majority of dress styles focus on snug and neat fits, the Brody style takes a different approach, introducing a comfortable and casual T-shirt dress. Hanging beautifully over every figure, this style can be added to every kind of wardrobe and can be perfectly paired with leggings or jeans. In fact, the flexibility of this design, easily paired with knitwear and trainers, makes it perfect all year round. And that's not all, the Chalk Clothing Brody style also comes with pockets! What can make a dress better than that? Choose from a wide variety of designs and colours and add the Brody style to your wardrobe today.
We have 8 styles of Chalk Knitwear from fine knits, to hoodies. If you're after a fitted fine-knit jumper, we suggest the Taylor Jumper or Hazel Jumper which are both great styles for wearing with jeans or skirts for lunch with friends. If you're after a loungewear knit we suggest the Hannah Hoodie, Clara Jumper or Ellie jumper; all of which are a loose fit, ideal for a super casual day look, or lounging around with Chalk Pants. Chalk Knitwear is a great core staple for your wardrobe which won't just take you through the Winter months, but the Spring and Summer too.
Our collection of Chalk Pants are made for lounging and there are 5 styles for you. You can find more information on the fit of each style under the 'Fit & Info' tab on each product, however if you are on the petite side we suggest the Tess Jog Pant or Lucy Lounge Pant which are both a jogger style with a drawstring elasticated waist, and cuffed legs. If you are after a loose, comfortable fit go for the Luna Pant or Sarah Pant. Both have a comfortable and thick elasticated waistband and are made from a cotton jersey. The Luna Pant has a comfy wide leg, whereas the Sarah pant has a cuffed leg.
Specific fit information and measurements can always be found under the 'Fit & Info' tab on individual products on our website, or feel free to give our helpful team a call on 01789266894 if you require any other information! The Chalk Clothing range can be found on Gemini Woman's website, so browse this brand today and experience the comfort Chalk can bring to your life.