Everything You Need To Know About Chalk
Here you will find everything you need to know about one of our best-selling brand, Chalk Clothing. Keep reading if you're not only interested in knowing more about Chalk, but also about the fits of their one size items and which pieces will suit your shape! You may wonder 'How can one size fit all?' Well, here we will break down what sizes certain styles fit up to, meaning a top that will fit up to a size UK16, will also fit a size UK8 it will just be a looser fit, compared to a neat and more fitted finish on a size UK16. It really is just down to you on how you want your piece to fit by choosing the right style for you!
Chalk are a lifestyle and homeware company based in Kent, UK. They're pieces offer a capsule range of loungewear, lifestyle and homeware products that compliment any home or wardrobe with their timeless and simple designs. Claire, owner of Gemini Woman has a close relationship with Chalk and often puts her ideas forward with new designs and ideas which we then sell exclusively at Gemini!
The Chalk Robyn Top is one of our best-selling styles and typically fits a size UK8-16. It is made from a jersey cotton and offers a relaxed, modern fit, designed to drape comfortably on the body and looks great casually paired with jeans and trainers! It has long sleeves and a slight stepped hem which is incredibly easy to wear. We suggest going for the Robyn Top style if you're after a casual yet chic top which will be a core basic in your wardrobe. Do not think that this top can just be worn casually though, it can just as easily be dressed up with faux leather trousers and heeled boots for a fun, party look. The Robyn Top comes in a wide variety of colours and designs, from plain colours to fun slogans. Our most popular design is the Robyn Star Top.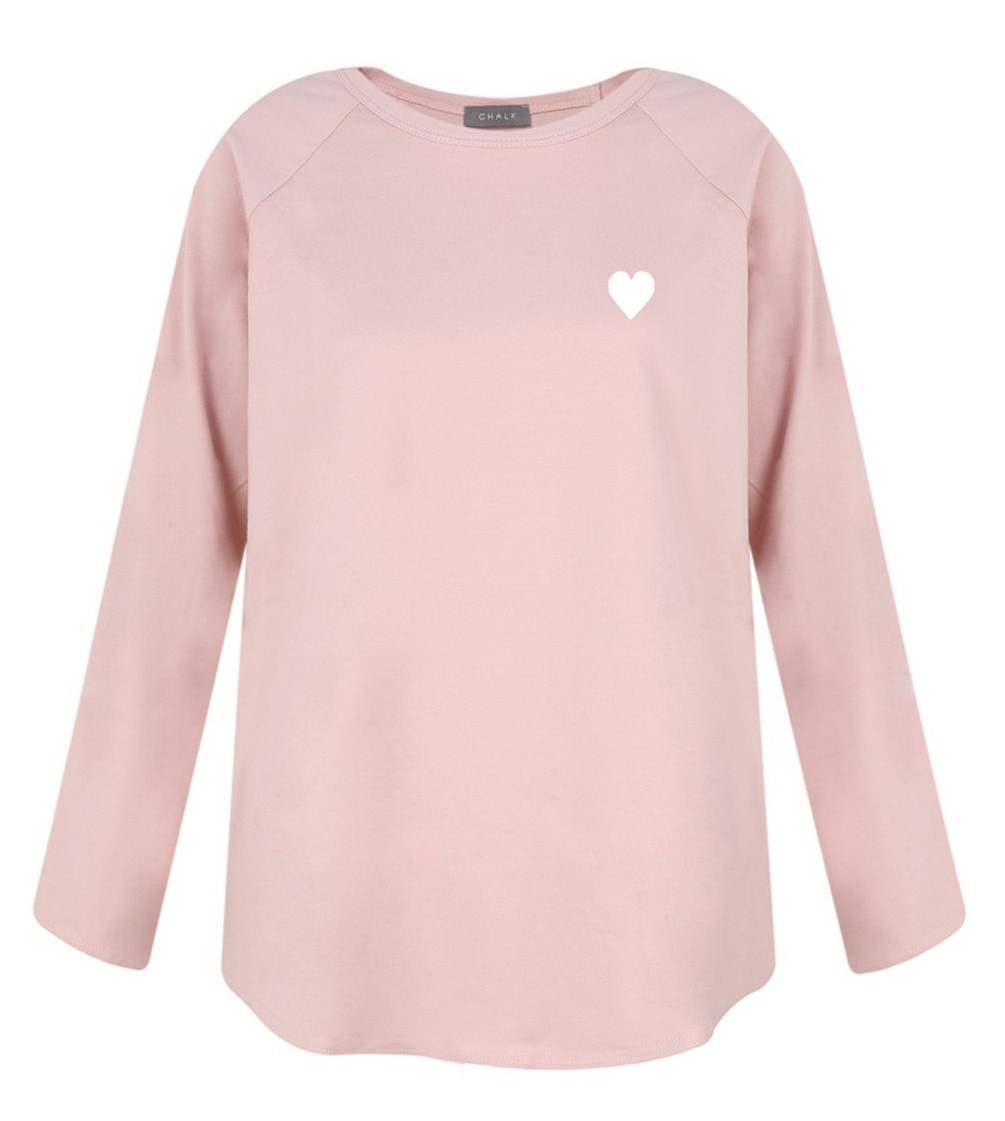 The Chalk Tasha Top is another best-seller from our Chalk collection. It is a smaller fit than the Robyn style and typically fits sizes UK8-14. This top is also made from a jersey cotton which is super comfortable to wear. Tasha offers a neat fit that glides over the body and looks great again styled casually with jeans, or tucked in to a midi skirt. Like Robyn, Tasha also comes in wide selection of designs and colours, with one of the most popular designs being the Tasha Heart Top. We suggest going for the Tasha Top style if you have more of a petite frame.
There are 9 styles of Chalk Dresses in our collection, each with different designs and fits. Our most popular Chalk dress is the Brody Dress which is a long sleeved, oversized dress typically fitting a size UK8-18. This dress is great for popping on with trainers in the Summer, or even wearing over jeans and boots in the colder seasons. Some other popular Chalk dress styles with long sleeves are the Ruth Dress and Steph Dress which are both a loose fit. Our short sleeve styles are the Alice Dress, Linda Dress and Pippa Dress and we also have sleeveless styles- The Claire Dress and Rachel Dress.
We have 8 styles of Chalk Knitwear from fine knits, to hoodies. If you're after a fitted fine-knit jumper, we suggest the Taylor Jumper or Hazel Jumper which are both great styles for wearing with jeans or skirts for lunch with friends. If you're after a loungewear knit we suggest the Hannah Hoodie, Clara Jumper or Ellie jumper; all of which are a loose fit, ideal for a super casual day look, or lounging around with Chalk Pants. Chalk Knitwear is a great core staple for your wardrobe which won't just take you through the Winter months, but the Spring and Summer too.
Our collection of Chalk Pants are made for lounging and there are 5 styles for you. You can find more information on the fit of each style under the 'Fit & Info' tab on each product, however if you are on the petite side we suggest the Tess Jog Pant or Lucy Lounge Pant which are both a jogger style with a drawstring elasticated waist, and cuffed legs. If you are after a loose, comfortable fit go for the Luna Pant or Sarah Pant. Both have a comfortable and thick elasticated waistband and are made from a cotton jersey. The Luna Pant has a comfy wide leg, whereas the Sarah pant has a cuffed leg.
Specific fit information and measurements can always be found under the 'Fit & Info' tab on individual products on our website, or feel free to give our helpful team a call on 01789266894 if you require any other information!