Amazing Woman Knitwear
Here you will find everything you need to know about one of our best selling brands, Amazing Woman, from how they became established, to their product styles to find the best fit for you. Amazing Woman was founded in 2005 where a gap in the market was seen for Womens jeans. Amazing Woman felt that there was not enough variety of jeans for different shaped women, and as we all know jeans fit everybody differently! Since then, they have expanded their products to include gorgeous knitwear, linen and jersey to compliment their wide variety of jeans. Amazing Woman knitwear is generally one size which we love! There are many different styles in the knitwear range and we will talk about the most popular ones below, so even though they may be one size, there is a style to suit every shape. They all come in a huge array of colours too so you can choose the colour that suits you best, or even buy every colour of your favourite style! We are always adding new colours to the Amazing Woman knit range when different seasons come around, to keep them timeless and easy to wear all year round.
The Caryf X Jumper is one of the best selling jumpers from the Amazing Woman range and typically fits a size UK8-18. The fit is oversized and has slouchy front pockets making this jumper incredibly easy to wear to pair with jeans, trousers or skirts. As it is one size, this jumper will appear more oversized on a UK size 8 compared to a UK18, so it really does depend on the style and fit you want! It's made from a supersoft cloud knit with a comfortable round neckline. We also love the Caryf X jumper layered over midi dresses in the Spring for a timeless look. This jumper comes in 24 different colours.
The Jodie Jumper is classic knit typically fitting sizes UK8-14. This jumper is one of the smaller fitting one size jumpers from Amazing Woman which we would suggest if you have a petite frame. It is also one of the shortest jumpers from Amazing Woman so it's great for layering over crisp white shirts for a classic look! The Jodie Jumper features a round neckline, 2 front pockets and is made from a supersoft cloud knit which is super comfortable to wear. Jodie comes in 25 different colours!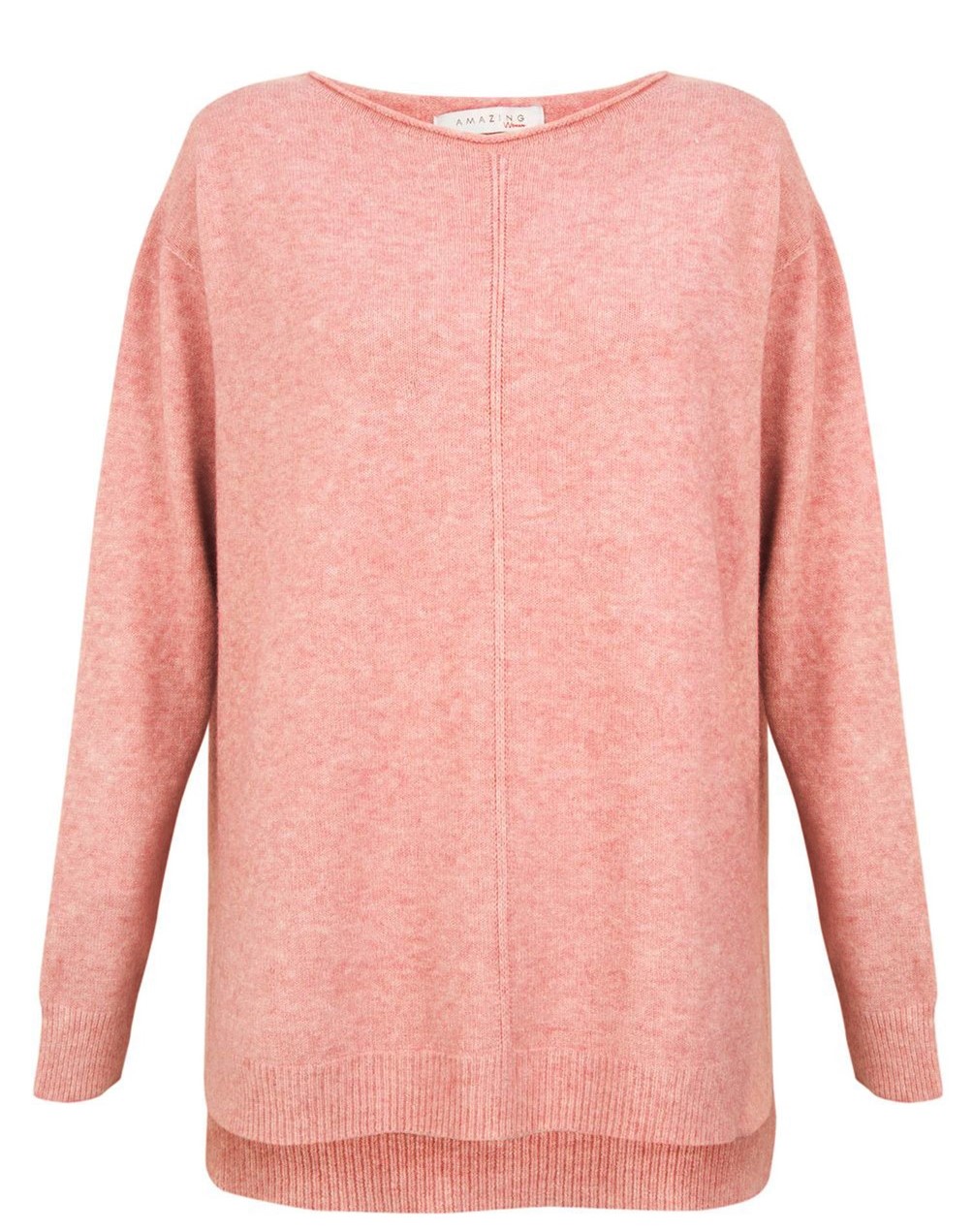 The Maggie jumper is another classic style from the Amazing Woman collection and typically fits a size UK8-16. The shape is similar to Jodie, but longer with a seam down the front. Maggie is also made from a supersoft cloud knit and comes in 20 different colours! We suggest going for the Maggie jumper if you are after a classic, smart looking jumper which can be dressed up with smart trousers for work, or just as easily be worn day-to-day with jeans and your favourite trainers.
The Pixie Vest is one of the newest members of the Amazing Woman knitwear family. As described, Pixie is a knitted v-neck vest that comes in 25 different colours and is made from a viscose blend. It typically fits sizes UK8-14 and is perfect for layering over t-shirts, long sleeve tops, shirts and dresses. As it is a vest, it is shorter than most other Amazing Woman jumpers as it is designed to layer. Pixie is the perfect choice for a capsule wardrobe as you can wear with pretty much anything from dresses to jeans!
The Perrie Jumper is yet another classic. Fitting sizes UK8-16, Perrie has a timeless v-neckline with a slight stepped hem which gives it a casual touch. Perrie comes in 24 different colourways and is also great for layering over collared shirts due to the v-neckline. We suggest wearing Perrie with jeans and boots or trainers for an everyday look which can be accessoried with a fun bag and bag strap! Perrie is also made from a soft viscose blend.
Amazing Woman also offers a great range of basic accessories including hats, scarves and ponchos. Our best selling Coby Scarf is a classic knit scarf which matches our Cobie Beanie Hats perfectly for a co-ordinated set in the chilly weather. The Amazing Woman ponchos are also a great classic piece to have in your wardrobe for layering over your outfit when you do not want a coat or jacket! The ponchos come in an array of colours too and are a classic design to work with all of your outfits.
Specific fit information and measurements can always be found under the 'Fit & Info' tab on individual products on our website, or feel free to give our helpful team a call on 01789266894 if you require any other information!